It's long been known that having a garden can provide significant benefits for a person's physical and mental health.  They're also huge selling points in real estate.  It, therefore, pays to make the most of your garden.  With that in mind, here are some large garden ideas.  They can help you transform your garden.
What to consider when designing your garden
There are five main points you need to consider when designing your garden.  These are size, shape and characteristics, climate and soil type, budget and maintenance.  Here is a more detailed look at each of these points.
Size
When considering the size of your garden, there are three key points you need to know.  Firstly, there is the overall size.  Essentially, this is the total area enclosed by your boundaries.  Secondly, there is the usable size.  In many gardens, some of the total area has to be given over to essential functions.  Probably the most obvious example of this is parking space.
Thirdly there are fixed subdivisions.  These are permanent structures that divide up your garden.  Probably the most obvious example of this is paths.  In many cases, these can be moved if necessary.  Given the work and upheaval involved in doing so, however, this is usually only done if there is a compelling reason for it.
Shape and characteristics
The shape of your garden can also play a huge role in its design.  In the context of garden design, shape refers both to the shape made by its boundaries and to its elevations.  In other words, is it flat or on an incline?  Does it have natural (or man-made) ups and downs?  It's also important to note its general features such as established trees and walls.
Generally, it's best to work with the natural features of your garden.  In fact, these natural features can provide inspiration for some great designs for large gardens (and small ones).  It may be possible to change some of them.  Again, however, this should usually only be done if there's a really compelling reason.
Climate and soil type
The climate where you live and your local soil type will both strongly influence what you can grow in your garden.  There are ways to get around both of these to a certain extent.
For example, you can use walls, cold frames and/or greenhouses to shelter delicate plants.  You can also use containers to grow plants that require a different soil type from what you have.
Realistically, however, these measures will typically be on a small scale.  Most of your garden will have to be designed around the local climate and soil type.
Budget
The key to getting the perfect garden for you is to prioritize your budget where it matters most for you.  For example, many people are likely to prioritize children's play areas, entertaining areas and workout areas over trees and plants.  This is absolutely fine.  You can add more trees and/or plants later if you wish.
Maintenance
Larger gardens usually require more maintenance than smaller ones.  With that said, your garden doesn't have to take up your whole life (unless that's what you want).  It is very possible to create larger gardens with low maintenance requirements.
For example, you could choose a hard-wearing lawn rather than a more delicate and formal one.  You could opt for lots of spreading plants to give ground cover and smother weeds.  You could also have raised beds to reduce the amount of bending you need to do to care for them.
Large Garden Design Plans
Moving house is a notoriously stressful experience for humans (and animals).  Plants generally dislike it too.  In some cases, it's possible to transplant plants successfully.  It is, however, often risky.  Some plants, especially very mature ones, simply will not tolerate it.  In principle, "hard" landscaping (e.g. decking) can be moved.  In practice, this can be a challenge.
It is, therefore, very much preferable to have a plan for your large garden design.  This will then form the basis of the project to create it.  Ideally, this plan should be developed in partnership with a professional gardening company.  This is the best way to ensure that your garden balances what you want with what's practical (and desirable) for your space.
For example, you may be aware that it's risky to plant trees and bushes near buildings and walls because of the damage their roots can do.  You may not, however, know the real-world safe planting distances for different types of trees and bushes.  A professional gardening company, by contrast, will be able to calculate this for you.
Big Garden Ideas – What could I add to my garden?
When you're thinking about what to put in your garden, it's generally best to start with fixed elements.  These are typically "hard" elements such as fencing and garden structures.  Then work your way towards the more flexible elements.
Fencing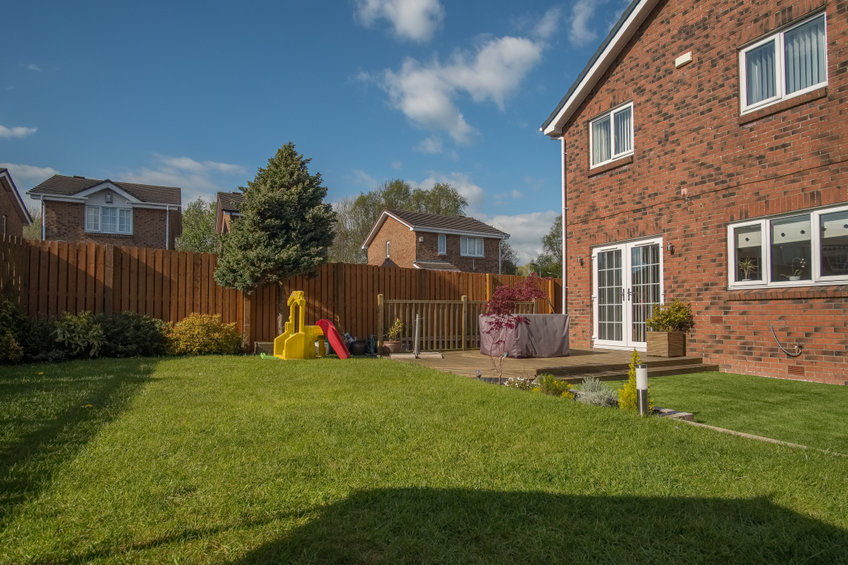 It's strongly advisable to have a visible boundary around your garden if at all possible.  Fencing is generally the best option due to its combination of robustness, safety and versatility.  Wherever you live and whatever your taste, there's a fence to suit you.
Bespoke Garden Features
If you want or need anything made specifically for your garden, then it's strongly advisable to organize it as early as possible in the proceedings.  Anything bespoke takes time to make and then you have to allow for delivery.
Likewise, if you would like to include vintage/antique pieces in your garden, then you need to start looking early.  Acquiring these pieces tends to be a case study in how luck equals preparation plus opportunity.  In other words, you generally have to keep looking for what you want and buy it immediately you see it.
Structures
One of the great benefits of having a large garden is that you have space for garden buildings.  These can be ornamental (e.g. follies) or practical (e.g. sheds, greenhouses).  Many garden buildings are both ornamental and practical.  These include pergolas, gazebos and summer houses.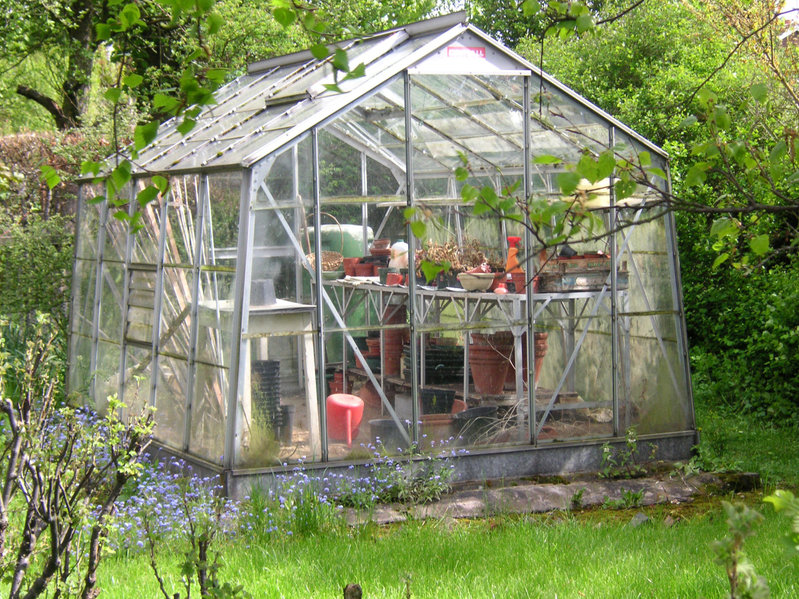 If you have space, then it's very definitely worth considering having a "Shoffice" (outdoor office) and/or a garden retreat/guest space.  Depending on the size of your garden (and your needs and ones) you could have one space that fulfils all functions.  Alternatively, you could divide them.
Even if you already have a home office and/or a guest room, having extra facilities gives you extra options.  This could be as simple as having somewhere else to work whenever you fancied a change of space.  Alternatively, it could be your "go-to" option to emphasize the distinction between work time and personal time.
Swimming/Paddling Pools and Hot Tubs
If you want a swimming pool or even just a paddling pool, then it's advisable to prioritize them.  This is because they will, obviously, require water so you need to think about how this will be supplied.  Hot tubs can usually be filled manually if necessary.
Garden Ponds and Water Features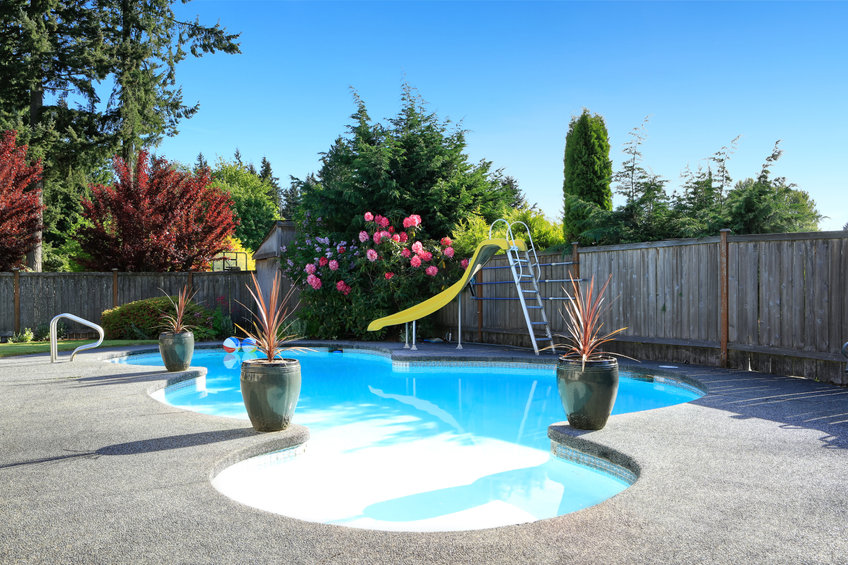 Water in a garden can be truly magical.  Both pools and water features such as fountains can be great places just to sit and relax.  Pools can also be excellent for wildlife.
Paving, Patios and Decking
Paving is generally a necessity.  It can also be used for ornamental purposes, such as to define spaces within a garden.  Patios and decking are not generally necessities but they are often high priorities.
Garden Trees and Bushes
Trees and bushes can be some of the most amazing features in a garden.  Depending on what you choose, you can have visual impact, shelter and shade for humans and animals and/or fruit.  Trees and bushes do, however, need to be planted with great care as their roots can interfere with foundations and walls.
A Lawn and/or Play Area
You can opt for a formal lawn or a hardwearing one that can double as a play area (for both adults and children).  You might even want a combination of both.
Garden Furniture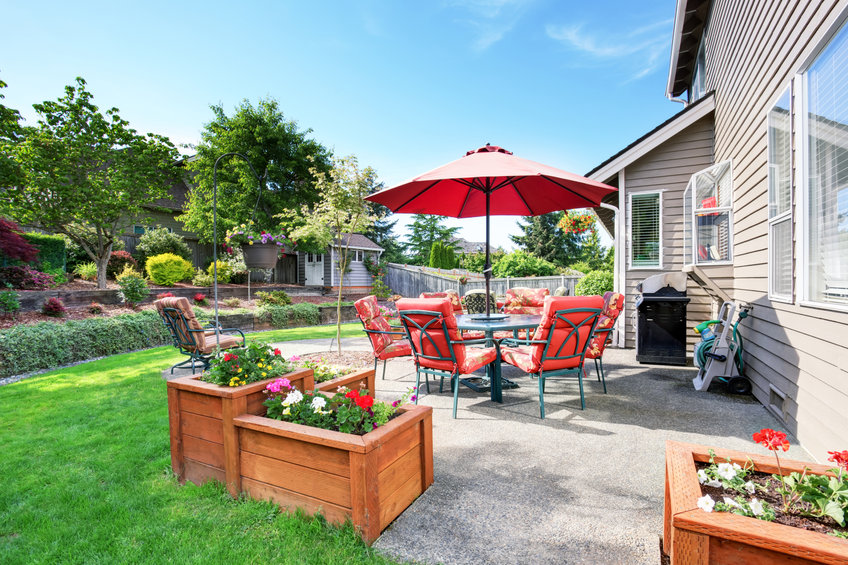 Well-chosen garden furniture can turn your garden into a real outdoor leisure and entertainment area.  If you put your garden furniture in the right location and/or under shelter, then you can use it from spring through to autumn.
Fire Pits and Outdoor Kitchens
Everybody knows food always tastes better when eaten outdoors.  It tastes better still when it's cooked out of doors.  Fire pits and outdoor kitchens can be a great way to do that in safety, comfort and style.
Garden Plants
It may seem odd to put garden plants so far down the list.  The truth, however, is that it is often much easier to fit garden plants around other requirements than vice versa.  There are so many plants to choose from no matter what your situation, needs, wants or budget, you're sure to have plenty of options.
Lighting
Lighting is often crucial to safety as well as convenience.  Often, however, you will only be able to assess what lighting you need and want once you have at least the majority of your garden design in place.  The good news is that it's now usually practical to use just solar and/or battery-operated lights.  This eliminates the hassle of installing wiring.