Pyracantha hedge plants are gorgeous semi-evergreens ideal for adding a special touch to your landscaping. The pyracantha bush, also known as the pyracantha firethorn for its fiery shades of berries, works wonderfully as a treat for all the senses. They are beautiful in all seasons, with fragrant flowers in the spring and summer months and bright red berries which ripen in the autumn, lasting almost until early spring. Pyracantha hedges are also very functional for providing a barrier and for highlighting specific areas. If you're considering pyracantha plants for your garden, here are a few tips on how to care for them, and how their stunning features can enhance your landscaping.
Everything you need to know about the Pyracantha Firethorn
The different features of the pyracantha firethorn
The firethorn hedge will make a glorious addition to your landscaping due to its many distinctive features. It's a thorny semi-evergreen with lush green foliage and delicate white blossom in spring. These fragrant white flowers make a lovely contrast against the dark green leaves. The firethorn hedge is also known as the pyracantha red column, due to the burst of red berries that come out later in the year. The pyracantha berries can also be orange or yellow depending on the variety. You can plant them as a single variety or in a mixture for an array of fiery colours. One of the main advantages of the pyracantha red column is that the berries persist all the way through winter, and they also attract birds and other wildlife.
Common uses of pyracantha firethorn in landscaping
A common use of the pyracantha firethorn in landscaping is to create a barrier. Pyracantha hedging grows to approximately three metres, with a dense structure. This makes it ideal for those in need of a sturdy intruder-proof hedge. It will withstand extreme weather conditions and acts as an effective windbreaker. You can even plant it below windows as an additional deterrent for intruders. It's perfect if you're looking to add more privacy to your garden.
---
---
As well as acting as a solid barrier, the pyracantha climber creates a perfect haven for wildlife. If you would like to welcome wild visitors into your garden, the red berries will attract hungry birds, insects, and small animals. The pyracantha firethorn will provide a place for birds to perch and nest. The nectar-rich flowers will bring in bees and other pollinators. It's a local species with a low environmental impact that will encourage the natural ecosystem. The berries, only when made into jams or sauces not raw, are also edible for humans.
The pyracantha hedge is attractive as it is functional. If you're looking to draw attention it makes a stunning feature piece. You can prune it into shape if you'd prefer a neater appearance, or let it grow longer and bushy. It's a very versatile shrub and can be used to create the atmosphere you desire. Pyracantha hedging can also be trained to grow against a wall or fence. This wild yet tame plant can work as an ornamental feature, impenetrable screen, or decorative hedge.
Pyracantha care and after-care
If you're wondering when to plant pyracantha, you have a couple of options. The best time is early to mid-autumn, but you can also plant it in early spring. Choose a sunny spot for your pyracantha hedge to thrive. It will be fine in partial sun and most types of soil. The pyracantha hedge growth rate is relatively fast, averaging at forty to sixty centimetres a year. Its total height can reach anything from one to three metres.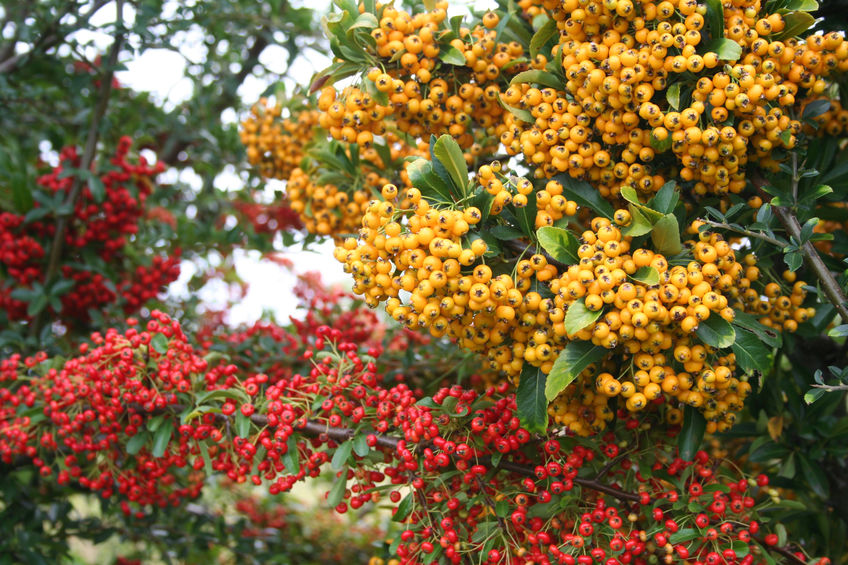 The pyracantha hedge is considered a fairly low maintenance plant. When to prune pyracantha depends on how long you want it to grow, but it's recommended to at least do so after flowering.
Learn how to prune pyracantha to show off the berries and to maintain the desired shape of the hedge. After flowering, trim back outward-growing shoots and neaten up any areas that are overgrown. Pyracantha will survive hard pruning as well if you do want to reduce its size significantly.
Get the right plant for your landscaping project
The pyracantha firethorn is perfect if you're after a sturdy yet attractive shrub with flowers or berries in bloom almost all year-round. At Eden Horticultural, we have a wide range of plants available and our friendly team can provide tips and advice. If you would like to find out more about the pyracantha hedge, or other plants for your landscaping project, contact us today.