Magnolia are a much sought-after plant, and are known for their large tulip or star shaped flowers. They can come in a variety of magnolia colours, and as a result, can make a great choice for an ornamental garden tree or shrub. Whilst many magnolia trees shed each year, there are also some evergreen varieties that could be preferred. Magnolia can also come in a variety of sizes, so there is likely to be one to suit your garden space. From towering trees reaching well over 60ft to smaller shrubs, there will be a magnolia plant that will suit your garden.
Bloom time
If you want to get magnolia for your garden, or have some in your garden already, then you might be wondering what month do magnolia bloom? With the deciduous varieties of magnolia trees that shed each year, a magnolia flower will open early in the spring before the leaves start to appear. The flowers will appear from large buds that come from the previous season, and they will remain throughout the autumn and the winter. For evergreen magnolia trees will bloom most during the spring to summer transition, although it is worth bearing in mind that your magnolia tree could rebloom in the late summer of the early autumn. Sporadic blooms can also appear throughout the year from time to time.
Types of Magnolia trees
Magnolias are flexible and hardy, and adapt well to a variety of different garden spaces. With over 20 varieties to choose from, all with stunning large flowers in different colours, the space that you have to fill with a magnolia tree will usually determine which variety to choose from.
Magnolias can vary from small to large, with magnolia trees and larger shrubs making a good choice for outdoor borders. Smaller varieties like Magnolia stellata, 'Jane', liliiflora 'Nigra', and 'Susan' are good options for patios as they can grow well in a pot planter. Evergreen Magnolia, like Magnolia grandiflora, can be a good choice for being close to a wall where you want it to grow up the wall.
Caring for your Magnolia tree / Magnolia aftercare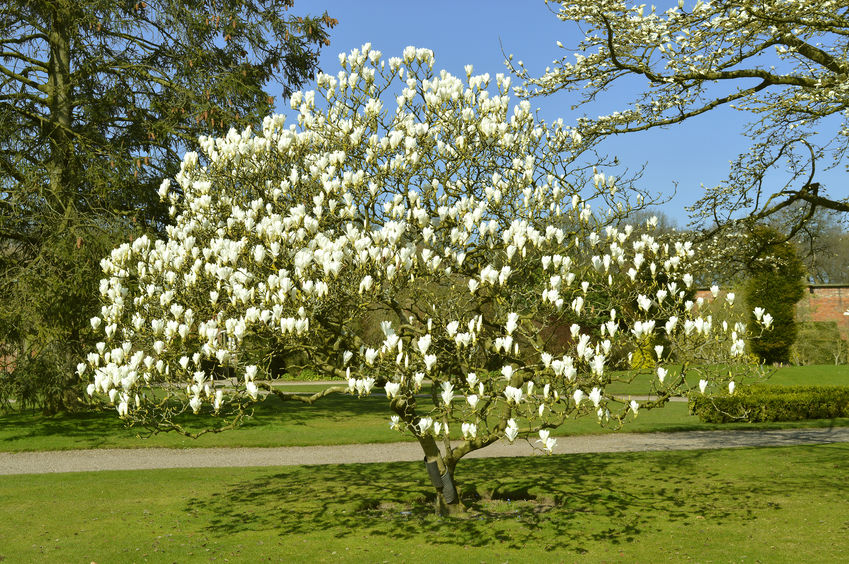 Magnolia trees are quite low-maintenance as they are a hardy shrub, and are resistant to pests and diseases that other trees and shrubs can get. In the right conditions, they have long life spans. When it comes to watering, a lot of magnolias will be fine with hot summer weather, and even survive in drought conditions. So for a resilient plant, they are a good choice. For any newer trees or shrubs, they should be watered on a regular basis until they are settled.
Magnolias typically need very little pruning to look after them. However, when to prune magnolia will be when there are some crossed over branches or damaged branches. You could also prune for aesthetic reasons. The best time for pruning magnolia is once the tree has bloomed, which tends to be in late spring or in the summer. If you don't prune in time, and do it too late, then it could mean fewer magnolia fruit the following year.
Planting Magnolias
When you decide to plant magnolias, you need to choose where you do so carefully. Magnolias have wide but shallow roots, so as such, one of the magnolia problems is that they can get easily damaged when you replant. When should you start magnolia shrub planting? It is best to plant any evergreen magnolias in the early spring. Any deciduous varieties are best to be planted in the autumn if you live in a warm climate, and in the spring if you live in a cooler climate.
The spoil that they need in order to thrive needs to be rich in organic matter, as well as being well-drained; don't over saturate the magnolia. The trees and shrubs are fine with a variety of soils, from sand soil to clay. If your tree isn't doing well or has leaves that are going yellow, then it could be an idea to have your soil tested, as it could need fertilizer.
How to grow Magnolias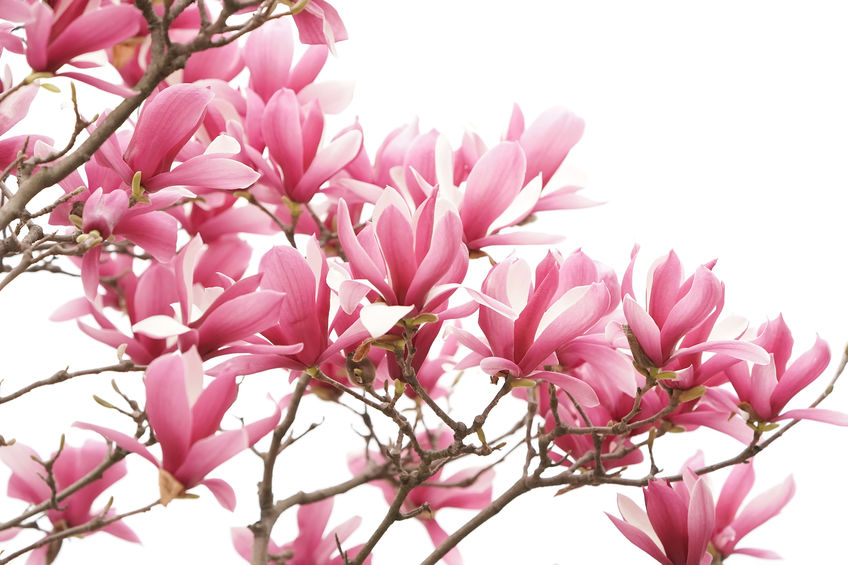 Once planted, it is a good idea to apply a mulch of well-rotted bark chips, as well as garden compost or manure. When near the base of the plant, it can help the magnolia to thrive and grow well. However, you shouldn't mound the mulch up too much round the stem. Some regular mulching is a must to help the soil and also hold onto some moisture for the shallow roots.
Problems you may get with magnolias without proper care
Although they are a pretty hardy and resilient plant, you could face some problems if they aren't planted in the right place, or not cared for in the right way. One problem is that you could get no flowers as a result of not pruning. You could also get dark flower buds, as well as yellowing of leaves and losing leaves. These are down to the soil and the growing conditions, so your soil should be checked if this is the case.
Where is the best place to plant a Magnolia
Evergreen varieties will grow at their best if they are placed in an area that will get a lot of sun, rather than shade. Deciduous varieties are best where there is some shade, and also where they can be protected a little from frost. Plants that have to compete for space and for light and space won't thrive.
Magnolia colours
The star-shaped flowers of a magnolia can be large when they are fully open. They also range in a variety of colours from pink magnolia, to white magnolia, as well as purple and sometimes yellow. Magnolia also has fruit that are brightly coloured, and they also have large, glossy, leaves.
If you are looking for more expert advice for growing and caring for your garden and your Magnolia trees then our fully qualified and skilled horticulturists can help you all around Essex. Eden Horticultural is dedicated to offering you an unrivalled service with a reliable approach and great service always guaranteed. Get in touch with us today by calling 01245 901537 or 07968 449570.