Is it possible that you have a garden and do not fancy gardening? Or are you struggling with the fact that your schedule does not allow you to garden? What are some of the ideas for the garden to try out in 2020 under such circumstances? Well, this article delves further into the topic.
Even before finding garden design ideas, you may want to consider the importance of gardening. Typically, you will:
Your exterior space will be outstanding when you go for different garden design ideas. It will help build positive expectations about your interior space. You also have a chance to enjoy your moments in a peaceful and serene environment.
Create a Safe and Clean Space
Failure to keep your garden in good shape comes with various health hazards. The dirt and debris lying around the garden become a perfect breeding ground for pests and insects. You can also be injured when empty cans and broken glasses remain hidden in the grass. As you design the garden, it will not be surprising that harmful chemicals have been left in the compound for months. If you are a fan of the gavel garden look, it's important to opt for a gravel garden underlay.
You will spend a lot of money maintaining your garden if you wait for ages before making the necessary changes. This may necessitate you to call professionals to help you through. Regular gardening will hence help you to save on cost.
Low Maintenance Landscaping 2020
In 2020, try the following low maintenance garden design ideas:
1. Mulch the Garden Beds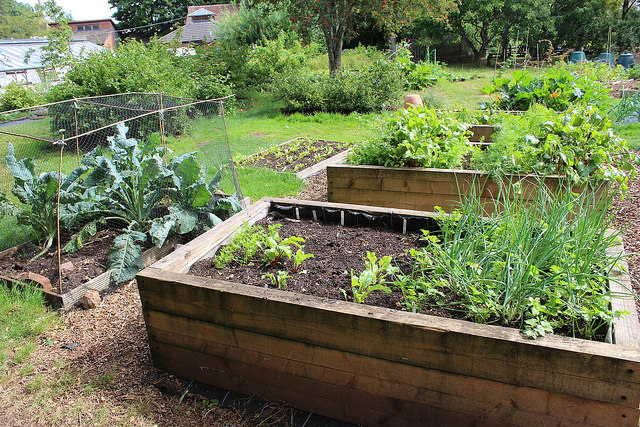 Image source
The weeds and stray grass make the gardening job difficult and involving. You must devote a part of your free time to eliminate them. The easier way out is to find ways of inhibiting their growth. Mulching is one of the easiest, safest, and cheapest ways of achieving this goal. This can come in various dyed shades including natural browns, rustic red, or even the deep chestnut.
2. Build a Deck
You will have added an extension to your lounge by building a deck in your garden. Add dining set to create a tiny space for your guests and family. Go for the wooden furniture to create a natural look. It is also easy to clean. You may want to seal the deck to avoid damages from different weather changes and other elements. Note than hardwood is easier to maintain than softwood.
---
---
Low Maintenance Garden Ideas
3. Replace the Grass with Stone
This is one of the best low maintenance garden ideas on a budget. While the presence of grass ushers in a naturally beautiful feel in your home, it also requires you to cut it off almost every week. Replace it with a stone of different sizes and colours. The surfaces will be as good as grass if you make the right choices. Yet, little maintenance will be required.
4. Go For a Wildflower Garden
You may have avoided keeping a garden because of the fear that you don't have time to care for some plants and flowers. However, you can go for a wildflower garden because little maintenance is needed. Simply water the plants and ensure that they are exposed to sufficient sunshine, and your garden will always be in perfect shape. Ask the experts to recommend the type of plants or flowers that suit the category.
5. Plant Artificial Grass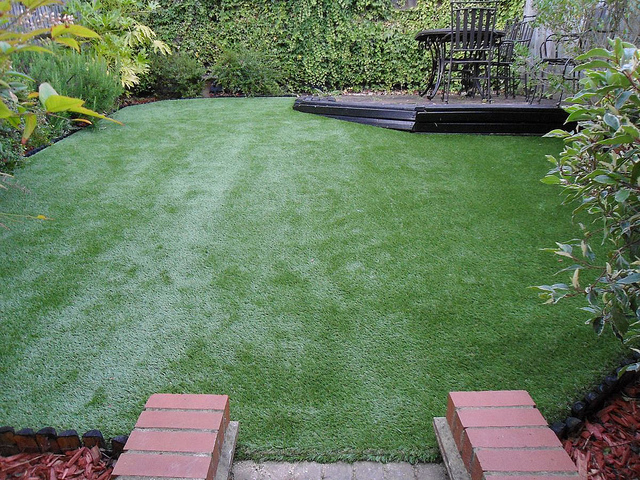 Image source
If you still fancy the idea of having grass in your garden, the ideal option is to purchase artificial grass. It does not require a lot of maintenance and will remain in perfect shape after the initial installation process. Even better, you can find the grass at an affordable rate.
Garden Design Ideas Low Maintenance
6. Go For Container Gardening
Using pots and improvised containers for your plants or flowers are worthwhile garden design ideas on a budget. There are chances that fewer weeds will grow in the pots. You can also move them depending on your needs and weather. Be creative enough to try different colours of pots. You must ensure that the colours blend in with the exterior design idea.
7. Install an appropriate Watering System
Your plants will need watering on a regular basis. Instead of wasting time carrying buckets of water daily, install an appropriate watering system. One of the easiest ways is to have a leaky water hose system. Consider the lessons you learnt about drip irrigation and install them on a low budget. Spray irrigation will be worth trying if you have a significantly big garden.
8. Have an Accessible Storage in the Garden
Nothing will make your garden look unpleasant than clutter. Since you cannot store everything indoors, solve the issue by building an accessible storage area near or in the garden. You will have lowered the workload because you don't have to go to the garage for the spades, watering cans, rakes, and hoes among other things.
9. Add a Garden Path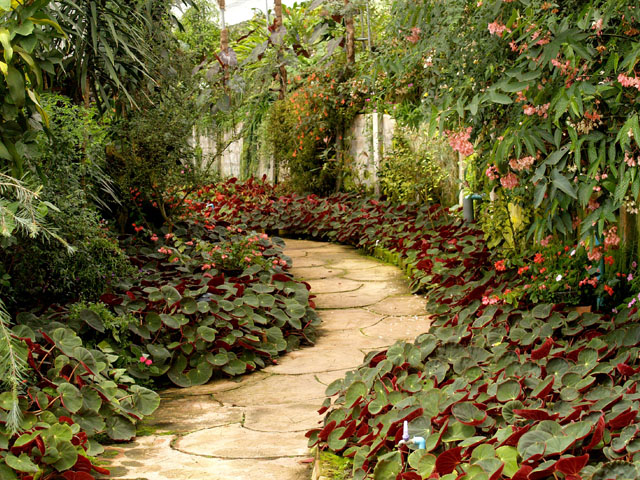 You can add a mysterious touch to your garden by creating with a garden path. Consider the general theme of your home before coming up with the path. Gravel should be one of the materials on your list because it has a natural and raw look. You also have the option of going for the colour and density that works for you. Still, it is ideal for your low garden maintenance pursuits. You can also go for perforated bricks or a wooden walkway.
Garden Ornament Ideas
10. Build a Bird Feeder
Ever wanted to attract birds of different species in your garden? All you need to do is to build a bird feeder and you will have fulfilled your dreams. It does not have to be expensive. In fact, you can build it in your backyard and place it strategically. The project requires little maintenance; just add some little food now and then to attract, and the sounds of nature's marvel will never cease in your home.
11. Install a Fire Pit
If you wish to create a focal point in your garden, installing a fire pit is the way to go. Your guests have a chance to sit around the area during winter and share good moments. The easiest way out of this is to build a brick pit and paint it. Don't forget to add wood in the middle for a complete look.
12. Get Rid Of the Lawn
You may have noticed by now that you tend to spend more time on the lawn. Achieving your goals on low garden maintenance design starts by getting rid of things that require a lot of care. Do away with the lawn to avoid mowing and watering plants regularly. Instead, give the lawn tree a wide skirt to cover the area. Bulbs such as spring crocus or autumn crocus can also be planted and carpeted well. If you decide to keep the lawn, ensure that the shapes are simple. For instance, go for a rectangular lawn because it is faster to cut it than other shapes.
13. Paint Your Fences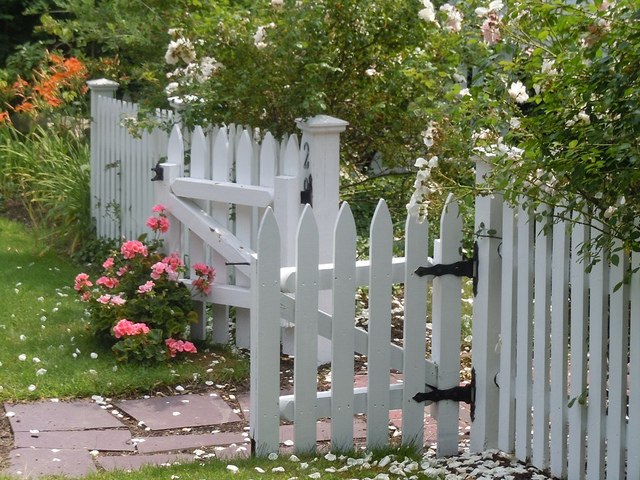 Image source
Painting will always add a dramatic transformation to any space. If you wish to add some colour to the garden without planting flowers or grass, just paint the fences using shades of green and blue. Little maintenance is needed in this case. It is wise to go for quality paints to avoid re-painting after often.
14. Buy Outdoor Artwork and Mirrors
Placing a well-sculptured piece, painting, or mirror in your garden is perfect when you wish to boldly express your ideas to the world. Zero maintenance is required if you purchase quality pieces. You can create the pieces if you have an artistic element in your bones. Paint the frames if they are made of materials that can rust or decay with time.
15. Choose the Right Lighting
In 2020, choose to transform your garden by installing the right lighting fixtures. Utilize darkness to conceal unattractive spaces while at the same time use lighting to highlight the best features of your garden. Solar lights will help you save on energy. They are also perfect when you have no source of energy in your garden. You can also try different designs of LED bulbs. Remember that safety is an important part of installing lighting in an exterior space.
Clearly, there are many ways in which you can design your garden with low maintenance in mind. It is, however, critical to take time to decide what works for you. This should be based on the layout and personal tastes. Professional gardeners in Chelmsford can guide you in this process. They should be defined by the following characteristics:
The experts must have enough skills and experience in the field to recommend practical solutions for your garden.
The experts must keep their word on service delivery.
You don't have to spend all your resources getting professional advice on gardening. The best companies will consider all budgets.
While searching for garden maintenance services, you will come across Eden Horticultural Limited. The company has been offering services for over eleven years to clients in Essex and beyond. By engaging them, you will design a garden that reflects your personality and lifestyle.
16. DIY Crate Shelves
A new trend which is really popular is using wooden crates to turn into shelves. A really easy and inexpensive idea which is low maintenance. You can easily hang potted plants and watering cans on the DIY crate shelves.
17. Spilt Flower Pot
A really catchy and intriguing idea which is also low maintenance design, instead of filling up the plant pot why not make it look like it has spilt the flowers instead. For this, all you need is a pot and a few ground plants.
18. Birdcage planter
Using a birdcage as a plant pot is a great idea for a low maintenance design. Let the flowers grow and spillover in the birdcage for a natural look within your garden.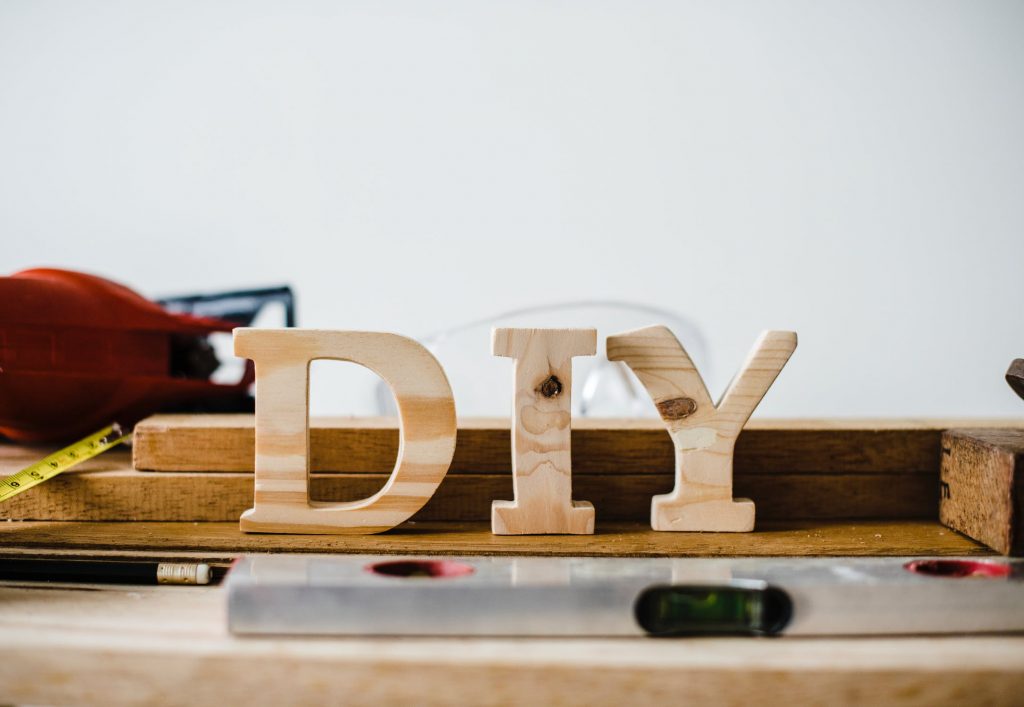 19. Use technology to maintain your low maintenance garden
All gardens require maintenance but with newer technology you can make things easier, here are some garden technology ideas in 2020 which will help you sit back and enjoy your garden while your technology does the jobs for you.
Sprinklers – Let your sprinkler do the watering for you, with smart sprinklers you can now set them to your time and sprinkler requirements.
Cordless Grass Mower – Set up your cordless grass mower to cut your grass while you sit back and relax
Garden Apps – Set up times for when your garden needs maintenance or pruning alarms
No garden is truly low maintenance without an automatic sprinkler system. Simply install it at a location that will benefit as many of your plants as possible, sit back and enjoy a beverage of your choice as the sprinklers do all the field work for you. Just make sure to maintain them every now and then to be certain that your plants will be getting their vital sustenance on time.
---